We are counted amongst the leading Metallic Bulk Storage Solutions provider which prove to to be highly valuable for the clients. These services are executed in a timely manner and provided to the clients at affordable price. Our services are highly reliable in order to achieve specific goals. We ultra-grade material and other tools to execute these services so that we can fulfill the clients' varying requirements. Our range includes solutions for constructing SS Bulk Storage Tank for all fluids with CCOE approvals.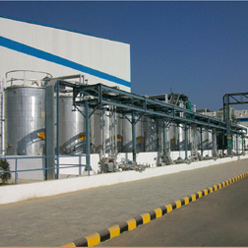 Salient features:
- Metallic tank of different chemical composition like Mild Steel, Stainless Steel(SS304, SS316, SS316L) as per design criteria, chemical resistivity and required strength.
- With conical flat & Torispherical dish end.
- Design standard for manufacturing: IS-803
- we offer all type of storage tank and process tank for industries like steel, paper, fertilization FMGC, and pharmaceutical & chemical industries.
- Appropriate material selection and process design from concept to validation by well experienced and dedicated experts.
- Facilities like nozzles, access provision, Manhole, & Ventilation systemaccording to client requirement.
- Accessori like level indicator, level sensor with controlling system to prevent the system from any miss happenings..
- Bulk storage for flammable solvents as per PESO guideline with licensing.
- Capacity range 4KL to 150KL.