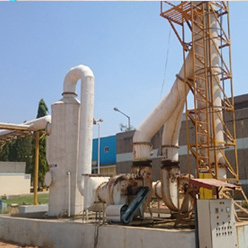 Ghaziabd Polymers Pvt. Ltd. packed bed scrubbers are versatile, reliable systems that serve the widest variety of processes. They are used and specified worldwide. GPPL packed scrubber are highly recommended for the efficient removal of inorganic gases, odor and fumes and are particularly appropriate where gas streams have extreme pH.
They are well suited for use as primary or secondary system in conjuction with thermal oxidizer and are also used in a series where there are multiple-contaminant gas stream. - For gaseous emission NOx, CI2,So2 & Others. - Acid fumes including H2SO4HCI, HNO3 & HF. - Odor Control- Single and multi stage units. - Combination systems for hot and cold systems. - System can incorporate particulate controls, gas quench, venturies and carbon systems. - MOC of different metallic and FRP materials according to chemical compatibility and design consideration.
Design CriteriaFlow rate:
This is determined by the process to be handled by the scrubber, through information provided by customer and GPPL expert analysis. We provide the system from range of 1000 CMH to 50,000 CMH and above.
Configuration:
Scrubber orientation(Vertical/Horizontal/Circular), Internal Vs External circulation, fan location with respect to tower, duct size,inlet-outlet and location of recirculation pump, tower access service port, service platform, internal accessories like polyring, mist eliminator, spray nozzles, flow measurement equipments.
Material of construction:
Determined by application because most contaminants involve corrosive gases and fumes, material must be able to withstand continuous contact with high and pH gases and scrubbing solutions.